---
Learning / Webinars & Events
Creating a Theory of Change will define your strategy for creating impact. A Theory of Change helps your organization communicate the work it is doing in the world and what the results or the impact of that work will be. A Theory of Change states that if your organization is successful in executing on its mission and meeting the needs of its client population, then certain things will happen for the organization, the stakeholders and funders, the client population, and the world.
This short video gives a great overview of Theory of Change and applies it to a real world example.
Once you gain a basic understanding of what Theory of Change is you can start working on your own.
The TYO Theory of Change Learning Path offers a guide specifically created to help understand what a Theory of Change for Outdoor Youth Development could look like and a template to assist in creating your own.
For example your Outdoor Youth Development Theory of Change may look something like this.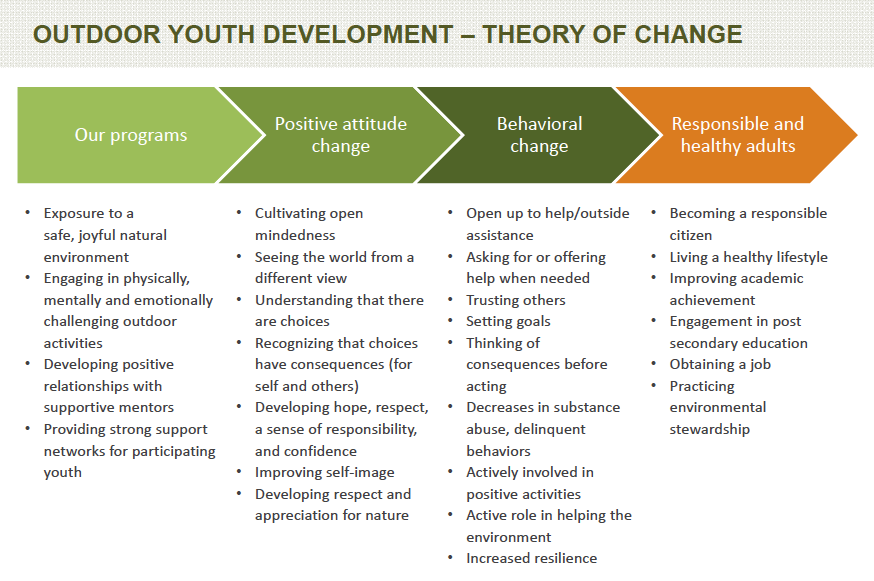 The path also offers additional video resources to help gain a better understanding of what a Theory of Change is and a comprehensive guide developed to help nonprofits create their own Theory of Change.
Program evaluation provides organizations with subjective and objective tools to analyze if your Theory of Change is working. You can find great program evaluation resources on TYO and join our upcoming FREE webinar Program Evaluation Planning: The first step to success. RSVP here.