---
Learning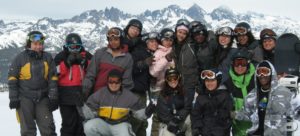 At TYO we passionately believe that getting youth outdoors can change lives, influence academics & career choices, and has positive health benefits. Developing an After-School Outdoor Program or Adventure Club can provide many benefits to your students and may be easier than you think!
Don't know where to start… the TYO After–School / Adventure Clubs Learning Path breaks down the process into 4 steps.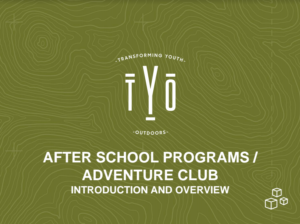 Planning! It should go without saying prior to implementing and facilitating your program, it is important to plan ahead and prepare. This could include doing some research on what it takes to successfully deliver an outdoor program and learning, how to address common concerns and challenges you may face, an understanding the process of planning, establishing, scheduling, recruiting and executing and after-school outdoor program. Our guide, After-School Programs / Adventure Club Introduction and Overview, will give you a good idea of what you will need to successfully deliver a program.
Engaging Community Stakeholders. After the planning stage is complete, it's important to engage with stakeholders in the community you wish to work in. "Buy-in" from existing organizations can lend your program legitimacy, develop community advocates, and enable you to facilitate activities outside your core competency (e.g. not outdoor education related). While getting your school community (parents, students, staff) on board is essential, collaboration with groups outside of your school can play an important role in the success of a program.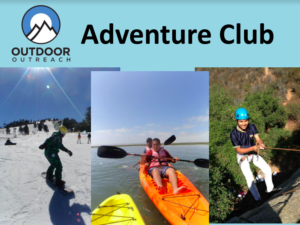 Recruitment. Recruitment is a crucial step in implementing your after-school program. Once you have the buy-in from your stakeholders, you will need youth to fill the program. Make sure you get the word out about your program. Create flyers, engage parents, and give dynamic presentations at recruitment or kick-off meetings to let students know your program exists. Outdoor Adventure Clubs are a great way to engage students and are often a great alternative for middle and high school youth not interested in other clubs or team sports.
Execution/Implementation. After planning your program, receiving approval from community stakeholders, and recruiting and enrolling participants you can begin to execute/facilitate your program. Creating lesson plans for your activities will ensure you meet stated goals and objectives while staying organized and on task. Be sure to share outings information with students prior to activities to make sure everyone is on the same page and prepared. After each outing, take the time to reflect on what worked and what didn't and apply the lessons learned to futures outings.
The TYO After–School / Adventure Clubs Learning Path is meant for anyone interested in developing an outdoor-based after-school program or Adventure Club for Middle and High School age students. TYO Learning Paths provide a step-by-step learning experience designed to give someone the tools needed to learn about a new topic. This specific path will guide you through the process of developing and facilitating your after-school program or Adventure Club using guides, templates, and samples that will teach you best practices for managers and facilitators. Existing program managers may find many of the individual resources in the path helpful to supporting or growing their program.
For more information on the benefits of Adventure Programs please visit the Children and Nature Network Research Library or to access our full resource library log on to www.mytyo.org, membership is free.